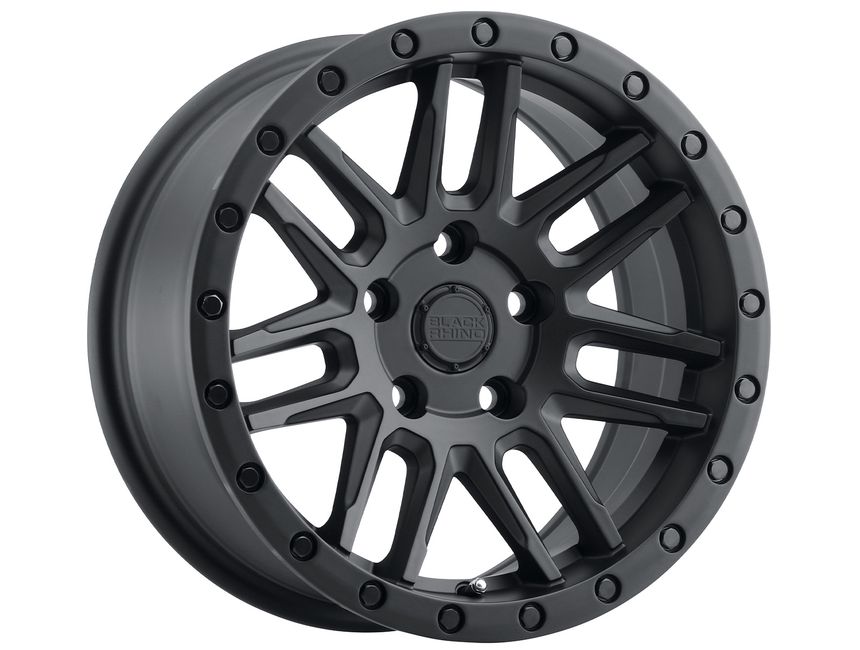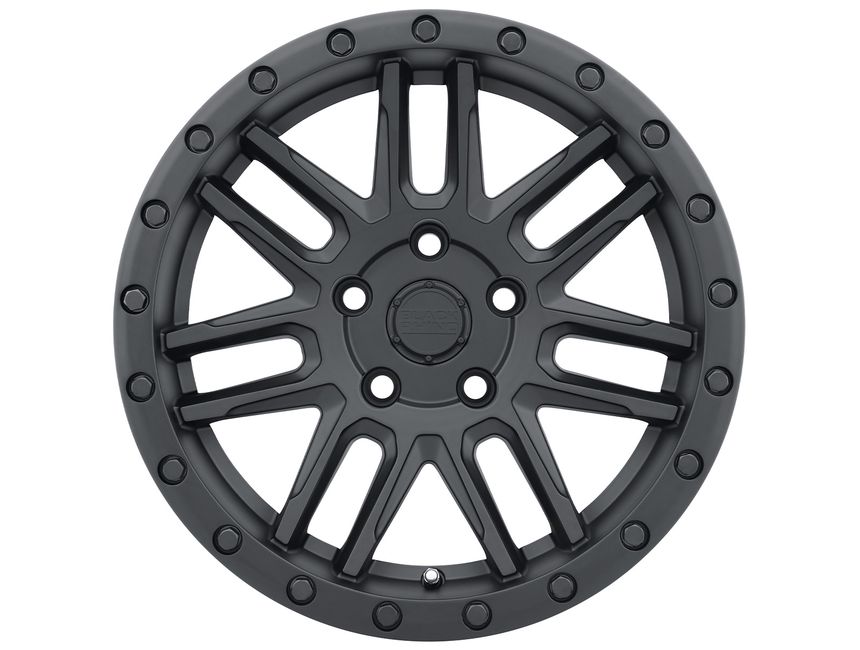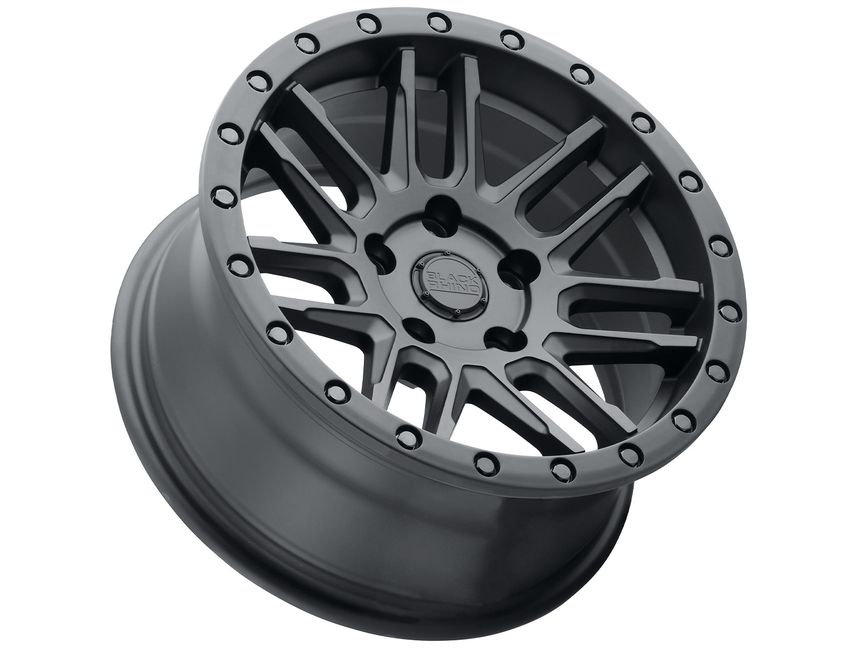 Black Rhino Matte Black Arches Wheels
Call-In Special Call-In Special - Buy a Set of Black Rhino Wheels with Nitto, Falken or Fuel Tires, and get them Mounted, Balanced, and Shipped with a set of lug nuts for FREE! TPMS Not Included. See More.
description

videos

install

warranty

reviews

Q&A
description
Matte black finish
7 dual spoke face
Concave face
1 piece cast aluminum
Black simulated beadlock ring
Black beadlock bolts
"Black Rhino" center cap
One year finish warranty
Limited lifetime structural warranty
Black Rhino Matte Black Arches Wheels feature a concave face to emphasize the depth of the wheel for an aggressive look. The 7 split spokes contain intricate beveled milling that draws the attention of onlookers. Spoked wheels are what Black Rhino specialize in, and the Arches puts those features on display.
The wheel is covered in a matte black finish with matching simulated beadlock ring and bolts. The center cap is adorned with the Black Rhino logo to complete the look.
Black Rhino stands behind these wheels with a limited lifetime structural warranty and a one year warranty on the finish. They are made of durable cast aluminum in a 1 piece construction. Outfit your truck with the perfect race/baja style wheel with the Arches from Black Rhino.
Our Guarantee
Truck Experts a Call Away
Spec Sheet
| | |
| --- | --- |
| Brand | Black Rhino |
| Finish | Matte Black |
| Warranty | Limited Lifetime (Structural) 1 Year (Finish) |
California Residents: 
Prop 65 Warning
Order Notes
Ready to customize your ride? Great! Just keep in mind when ordering aftermarket wheels, tires and/or lift kits it will likely change the way your vehicle looks, handles, and performs from that of when it was originally equipped from the manufacturer. Customers understand that these changes will vary from stock standards which may result in different handling, visibility, and braking ability from the manufacturer's original equipment. When purchasing these products, you as the customer assume all risks associated with these changes. In some cases you will need to trim, cut or modify your vehicle to ensure proper fitment to help prevent rubbing or limited turning radius. All Wheels, Tires, Lift Kits are Non-returnable unless ordered incorrectly by a RealTruck consultant or if we shipped the incorrect product. Please feel free to call our Off-Road Experts for advice and support!
Lug nuts and TPMS Sensors are not included with wheel orders. New lug nuts are required to install aftermarket wheels.
Check out the lug nuts RealTruck.com has available here - Lug Nuts.
Check out the TPMS sensors RealTruck.com has available here - TMPS Sensors.
videos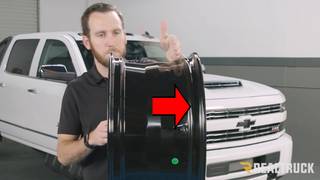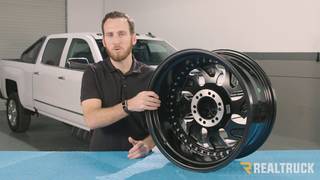 Review Wheel Backspacing
00:45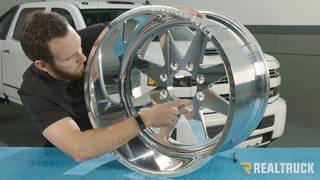 install
If you are changing your wheel dimensions from stock you will want to have your speedometer and odometer recalibrated after installing your Black Rhino wheels. Changing your wheel or tire size can affect the accuracy of your gauges. If you have any questions or concerns please feel free to give us a call.
warranty
With regular care and regular road conditions, Black Rhino offers a one year finish warranty on its wheels with chrome and painted finishes. Black Rhino provides a lifetime structural warranty for wheels it manufactures that are structurally unsound because of a manufacturing defect caused by Black Rhino that makes the wheel unfit for its ordinary purpose. Damage or issues with wheels manufactured by Black Rhino that are not caused by, or the result of, a manufacturing defect by Black Rhino are not covered under the warranty. Additionally, the following are expressly excluded from the warranty:
Black Rhino does not offer a "road hazard warranty," so any damage or issue with a wheel caused by the wheel colliding with a pothole or any other object or debris will not be covered by the warranty;
Wheels that have been used in racing are not covered by the warranty regardless of the damage or structural unsoundness; and
Wheels mounted on vehicles with a load rating in excess of the load rating of the wheel are not covered by the warranty regardless of the damage or structural unsoundness.
Wheels that have been modified, repainted, or powder coated.
THE WARRANTY ONLY APPLIES TO THE ORIGINAL PURCHASER OF A WHEEL AND THE WARRANTY IS LIMITED TO THE ACTUAL AMOUNT BLACK RHINO WAS PAID FOR THE WHEEL.
To submit a wheel for determination of coverage, a distributor must first obtain a Returned Goods Authorization number from an authorized Black Rhino salesperson. Wheels sent to Black Rhino without first obtaining a Returned Goods Authorization number will be refused and returned to sender. After obtaining the Returned Good Authorization number, THE DISTRIBUTOR WHO PURCHASED THE WHEEL FROM BLACK RHINO must send the wheel by freight prepaid, as freight costs, shipping costs and any consequential damages are not covered by the warranty, to Black Rhino headquarters in Brea, California for inspection by Black Rhino. The invoice of the original purchase must be included with the wheel so Black Rhino can verify the wheel is being submitted for coverage under the warranty by the original purchaser. A customer of a distributor cannot directly send a wheel for inspection to Black Rhino as Black Rhino does not communicate, correspond or deal in any way with the customers of Black Rhino's distributors. A wheel submitted to Black Rhino by a customer of the distributor will be returned.
After receiving a wheel submitted by a distributor for inspection, Black Rhino will inspect the wheel and notify the distributor if the wheel is covered by the warranty. If Black Rhino determines the wheel is covered by the warranty, Black Rhino will issue a credit note to the distributor for the amount the distributor paid Black Rhino for the wheel.
reviews
Q&A