description

install

warranty

reviews

Q&A
description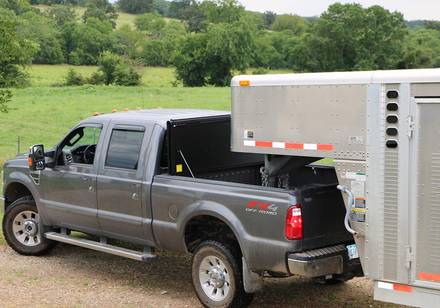 Full Bed Access
The Flex folds up to the cab and secures with prop rods. Few hard covers offer this.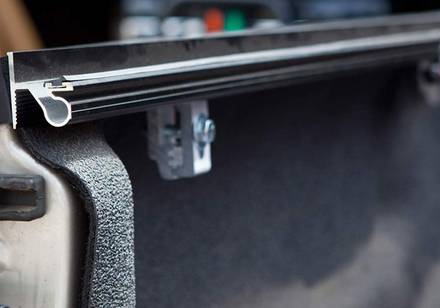 Weather Resistant
Integrated channels in the side rails guide water to the front and out of the truck bed. Keeps your cargo dry.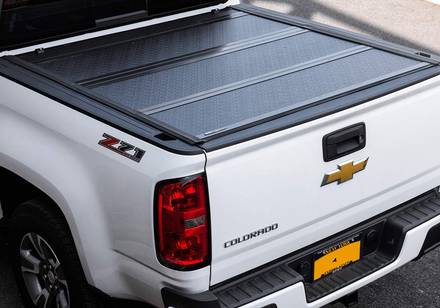 Aluminum Panels
Aluminum is extremely durable and lightweight. The quality finish will last for years.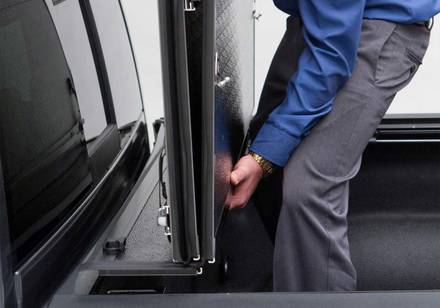 Easily Removable
Remove the cover in seconds without tools. Quick release hardware is included.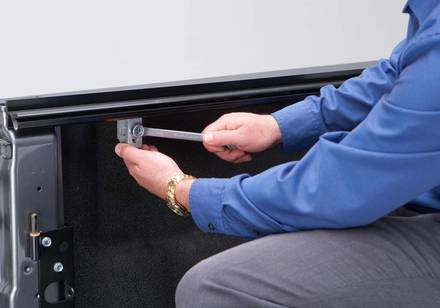 No Drill Install
No drilling required (most trucks) so you can leave the drill box in the toolbox. Preventing damage to your truck.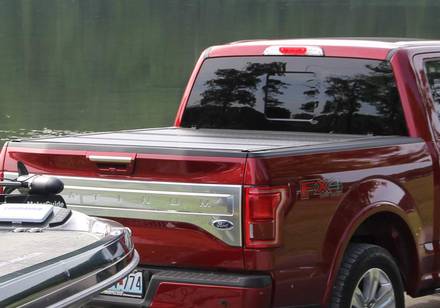 Low Profile
The cover mounts inside the bed rails for a very sleek look. Flush design enhances the style of your truck.
Premium hard-folding tonneau cover
Easy-to-use tri-fold design
Durable aluminum panels
Corrosion-resistant powder coat finish
EPDM rubber hinges and edge seals
Can fold flush against the cab for full bed access
400 lb. weight rating (evenly distributed)
Limited 3-year warranty
For the ultimate in cargo protection, you can't beat a rugged, hard tri-fold bed cover. The UnderCover Flex is one such tonneau, offering a robust and secure hard shell, easy-to-use folding design, low-profile aesthetic, and exceptional weather resistance!
The UnderCover Flex Tonneau Cover is constructed from high-grade aluminum panels for superior durability. In a pinch, these panels can even support up to 400 pounds when evenly distributed! The panels are also impact and cut-resistant, preventing break-ins and theft.
Accessing your truck's cargo area is simple and quick; simply drop the tailgate, pull either of the cord latches and fold the cover onto itself. You can secure the cover in the ⅔ open position with the integrated nylon straps, or fold it forward one final time and support it with the integrated prop rods, resulting in 100-percent bed access!
When you're finished, close the tonneau cover, fasten and lock the tailgate, and your cargo in the bed is safer than your cargo in the cab!
For the ultimate cargo protection, consider the UnderCover Flex Tonneau Cover from RealTruck.
Our Guarantee
Truck Experts a Call Away
Spec Sheet
| | |
| --- | --- |
| Brand | UnderCover |
| Finish | Gloss Black |
| Warranty | 3 Years |
| Material | Aluminum |
California Residents: 
Prop 65 Warning
install
The UnderCover Flex Tonneau Cover is easy enough to install in your driveway. Most applications can be installed with no tools, however some applications may require simple hand tools. Please call us if you have any questions.
For additional assistance, check out our video installation tutorial:
Undercover Flex Tonneau Covers Install Guide
How to Install Undercover Flex 2017 Chevy Silverado 2500HD
06:33
warranty
TERMS OF THIS WARRANTY
UnderCover, Inc. warrants the structure of your cover to be structurally free from defects in material and workmanship for (3) three years from the retail date of purchase. The hinges, seals, and hardware are warranted to be free from defects in material and workmanship for (3) three years from the retail date of purchase. This warranty applies only to the original purchaser and is nontransferable. Your original sales receipt will serve as proof of purchase for this warranty. Before credit can be issued on a warranty claim, proof of defect may be required. This can be determined at the time of the claim.
EXCLUSIONS OF THIS WARRANTY
Not covered under this warranty is failure due to neglect, improper installation including any modifications to installation hardware, alterations, addition of equipment, abuse, accident, weather related damage, exposure to chemicals that are not labeled "safe for rubber" and normal wear from lack of maintenance.
CAUTION
Always read the ingredients of any product you are using to clean your cover. Make sure that you use only products that are safe for use with rubber. Many chemicals contain material that will permanently discolor or damage your cover hinges and seals. This is not considered a manufacturer defect.
OWNER RESPONSIBILITIES
Incidental or consequential damage or loss of contents due to use, neglect, lack of maintenance, misuse or abuse of the cover is the sole responsibility of the truck owner and operator. Paint damage to your truck is not covered under this warranty. When operating your truck always keep the cover in either the fully closed and latched position, or one of the two approved open positions. The first approved open position would be the first, second, and third panel stacked onto the forth panel and the buckles must be secured together. The second approved open position would be all four panels standing up vertically behind the cab. In this position both prop rods must be attached and the buckles secured. Do not operate the truck at excessive speeds with the cover in either open position.
REPAIR AND REPLACEMENT
In the event that your cover is found to be defective under the terms of this warranty, it is at the discretion of UnderCover, Inc. to repair or replace the defective part. All repairs must be made under the direction of UnderCover Inc. UnderCover Inc. is not responsible for any transportation costs associated with the warranted claim.
MAINTENANCE & CARE
The panels of your cover require only periodic cleaning with mild car wash soap. Avoid use of all abrasive type cleaners as they may dull the finish. Some chemicals and fluids such as insect repellents, oils, solvents, and lubricants could potentially damage the rubber hinges and seals and void the warranty.
reviews
Q&A