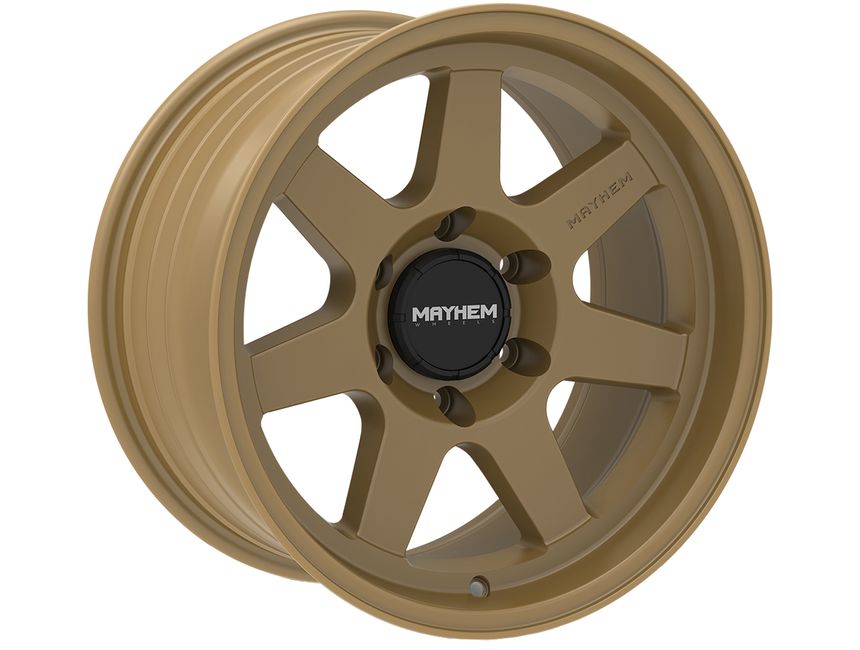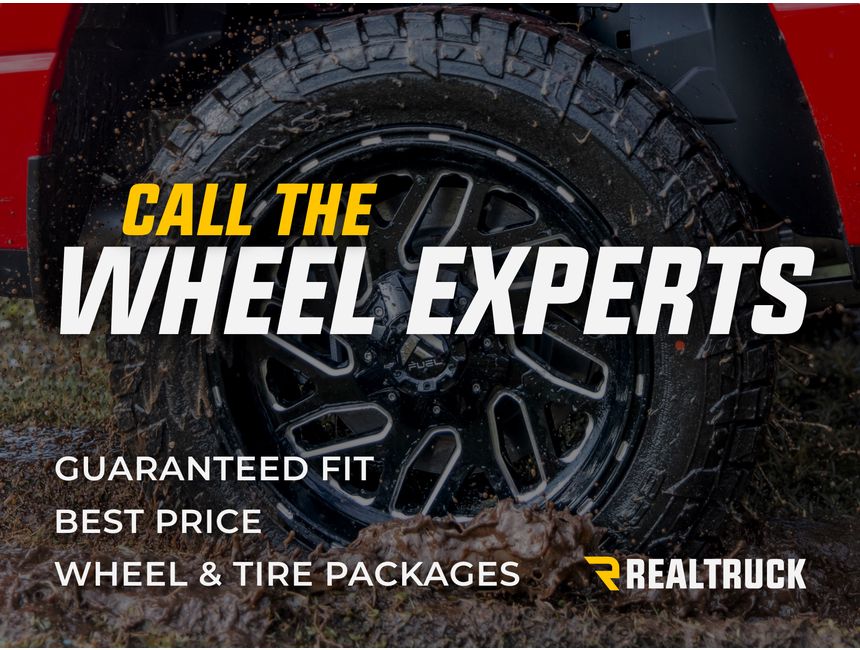 Mayhem Bronze Convoy Wheels
description

videos

install

warranty

reviews

Q&A
description
Satin bronze finish
Bold spoke face
Stepped lip
Debossed spoke logo
"Mayhem" center cap
1 year finish warranty
Lifetime structural warranty
Mayhem Bronze Convoy Wheels feature a slightly concave face to emphasize the depth of the smooth lip. The wheels contain seven bold spokes that give them a classic look. Spoked wheels and race styles are what Convoy specialize in, and the Convoy puts those features on display.
The wheel is covered in a satin bronze finish that is enhanced by the smooth wheel lip. The center cap is adorned with the Mayhem logo to complete the look.
Mayhem wheels are covered under a lifetime structural warranty along with a 1 year warranty on the finish. They are made of durable cast aluminum in a 1 piece construction. Outfit your truck with the perfect race/baja style wheel with the Convoy from Mayhem.
Our Guarantee
Truck Experts a Call Away
Spec Sheet
| | |
| --- | --- |
| Brand | Mayhem |
| Finish | Bronze |
| Warranty | Limited Lifetime (Structural) 1 Year (Finish) |
California Residents: 
Prop 65 Warning
Order Notes
Ready to customize your ride? Great! Just keep in mind when ordering aftermarket wheels, tires and/or lift kits it will likely change the way your vehicle looks, handles, and performs from that of when it was originally equipped from the manufacturer. Customers understand that these changes will vary from stock standards which may result in different handling, visibility, and braking ability from the manufacturer's original equipment. When purchasing these products, you as the customer assume all risks associated with these changes. In some cases you will need to trim, cut or modify your vehicle to ensure proper fitment to help prevent rubbing or limited turning radius. All Wheels, Tires, Lift Kits are Non-returnable unless ordered incorrectly by a RealTruck consultant or if we shipped the incorrect product. Please feel free to call our Off-Road Experts for advice and support!
Lug nuts and TPMS Sensors are not included with wheel orders. New lug nuts are required to install aftermarket wheels.
Check out the lug nuts RealTruck.com has available here - Lug Nuts.
Check out the TPMS sensors RealTruck.com has available here - TMPS Sensors.
videos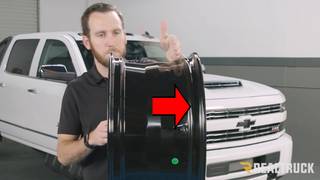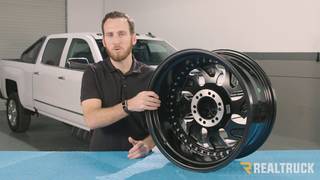 Review Wheel Backspacing
00:45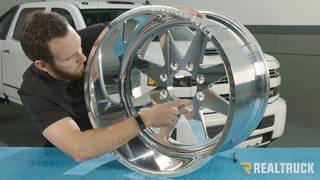 install
If you are changing your wheel dimensions from stock you will want to have your speedometer and odometer recalibrated after installing your Mayhem wheels. Changing your wheel or tire size can affect the accuracy of your gauges. If you have any questions or concerns please feel free to give us a call.
warranty
The Wheel Group (TWG) - Limited Warranty
TWG warrants that wheels manufactured by them will be free from structural failure as long as the original retail purchaser owns the product. This excludes all products manufactured under IONBILT, these carry a 60 month structural failure warranty from the original date of purchase.
TWG further warrants to the original purchaser that these products will be free from defects in material and workmanship under normal and intended use for a period of 12 months from the date of retail purchase. Painting defects are limited to a 12 month period from the date of purchase. PVD plating defects are limited to a 24 month period from the date of purchase. Chrome plating defects are limited to a 36 month period from the date of purchase. Surface rust, pitting or discoloration is a direct result of improper maintenance and is not covered by this warranty.
TWG's sole and exclusive obligation under this warranty shall be to repair or replace at TWG's sole discretion, without charge, any product that does not conform to this above warranty and is returned with a copy of the original sales receipt or satisfactory evidence of date of purchase, to the dealer whom the product was originally purchased or to TWG. Such repair shall not include incidental charges such as removal, installation or shipping. In no event shall TWG be liable for special, incidental or consequential damages. Wheels replaced under warranty will be covered for the duration of said warranty from the original date of purchase only.
This Warranty is Void if:
Corrosion or damage occurred due to improper maintenance, refer to Wheel Care Instructions below for correct wheel maintenance
Damage or structural failure occurs as the result of road conditions or an accident
Damage or structural failure occurs as the result of racing applications or willful abuse
Damage occurs due to neglect or adverse weather conditions
The wheels have been altered or repaired
Improper mounting, excessive vehicle loads, and incorrect tire sizes
This limited warranty is the express warranty given by TWG and in lieu of other warranties, whether written or oral. All implied warranties, including, without limitation warranties of merchantability or fitness for a particular purpose, shall be limited in duration to the duration of this warranty. The warranty expires upon transfer of title of any TWG products by the original retail purchaser.
The above named products are not designed to be mounted with any accessories or adapters, etc., other than those supplied or approved by TWG and any damage caused by any such other accessories or adapters is not covered by this warranty.
Recommended Wheel Care
• Wheels should be cleaned by hand regularly to remove contaminants like road grime, salt, ice/snow melting chemical, dirt, and brake dust.
• Automatic spray and touch free car washes do not completely remove contaminants, these can cause harm to the finish, hand washing is highly recommended.
• Many areas of the country use road salts and chemicals during the winter months that can cause adverse effects on your wheels, it is recommended to clean more frequently during this season. Failure to do so may greatly reduce the life of the product.
• Avoid using automatic car washes, the cleaning agents and brushes used to clean tires can damage the wheel surface.
• Never wash your wheels when they are still hot from driving. Do not attempt to cool hot wheels with water, this may cause damage to the finish and can warp the brake rotors and/or drums.
• For PVD and Chrome plated wheels, to clean apply a simple cleaning solution such as mild dish soap and water, and then dry with a soft cloth. For Chrome finish you can apply a coat of soft, nonabrasive cream wax or wheel seal to help prevent surface corrosion.
reviews
Q&A